All Credits go to Asia Bradlee
Bring out the summer flavors with these healthy options.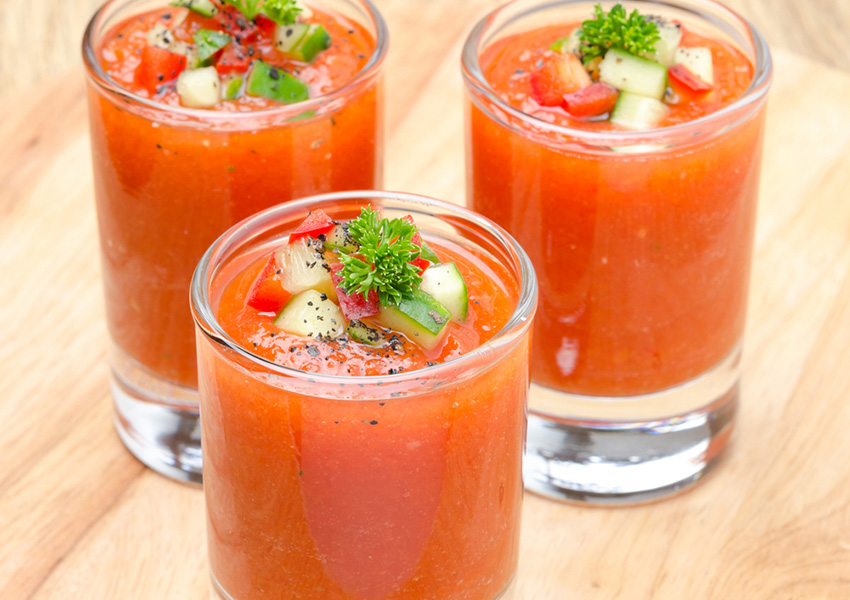 Soups are a great way to use your farmers' market bounty in one recipe, and many can be served hot or cold. Below, we found 14 healthy soups you should try this summer—from tangy gazpacho to hearty seafood chowder.
1. Creamy Tomato and Orange Soup
via Epices et Baobabs
This is a simple soup with carrots, tomatoes, and oranges that can be served hot or cold. Sprinkle some pumpkin seeds on top for an extra crunch.
2. Tomato Mint Gazpacho
via Yummy Beet
A traditional summer soup gets a flavorful kick with the addition of fresh mint leaves. If you have time, try to let the gazpacho chill overnight. The longer that it chills, the better it will taste.
3. Green Pea Soup
via The Little Epicurean
While this recipe calls for frozen peas, summer is a great time to try using fresh. White potatoes are used in the soup, but you can use sweet potatoes instead.
4. Beetroot Soup
via The Luminous Kitchen
Made with beetroot, Greek yogurt, and topped with a sprinkle of sunflower seeds, this soup is a filling meal. The beetroot will stain your hands when you skin it, so wear plastic gloves to avoid purple-stained skin.
5. Zucchini and Yellow Squash Soup
via Kalyn's Kitchen
These two summer vegetables blend with rosemary to create an aromatic flavor. This soup can be made in a pressure cooker or on the stovetop.
6. Smoky Roasted Corn Chowder
via The Beautiful Balance
This corn soup uses smoked paprika and cayenne pepper for a smoky taste with a kick of spice. Top with fresh avocado or stir in chickpeas for added protein.
7. Spicy Chili Verde with White Beans
via Kitchen Treaty
Easily customizable, this soup allows for the addition or removal of many ingredients. Chicken is a great protein option and the white beans can be swapped for a bean of your choice.
8. Two Melons Soup
via Petit World Citizen
Made with cantaloupe, honey dew melon, tofu, and Tamari sauce, this cold soup is also gluten-free. Be sure that the melons you use are ripe for the best flavor.
9. Kale, Tomato, and Bean Soup
via Vanilla Clouds and Lemon Drops
This soup uses fresh tomatoes as its base. Beans add protein and the vegetables can be whatever you have on hand or growing in your garden.
10. Watermelon Gazpacho
via Nutrition Stripped
Perfect for hot days, this refreshing gazpacho uses watermelon and a variety of vegetables, such as cucumbers, peppers, and tomatoes. All that you need to make the soup are the ingredients and a blender.
11. Slow Cooker Summer Chowder
via Foodtastic Mom
This recipe uses fresh summer produce such as zucchini and corn to create a hearty chowder. Ideal for a lazy day, this chowder is made in a slow cooker.
12. Chilled Lemon Basil Avocado Soup
via Soup Addict
Avocados and coconut milk give this soup its creamy consistency. Be sure to let the soup chill for at least two hours before adding any seasoning.
13. Fresh Seafood Stew
via Thyme
This recipe uses clams, snapper fillets, and shrimp to create a hearty stew. Let the clams cook first, and make sure most are open before adding the shrimp and snapper.
14. Summer Vegetable Minestrone
via All That I'm Eating
An abundance of fresh vegetables makes this colorful soup a healthy meal. Meat, such as chicken or ground turkey, can also be added.