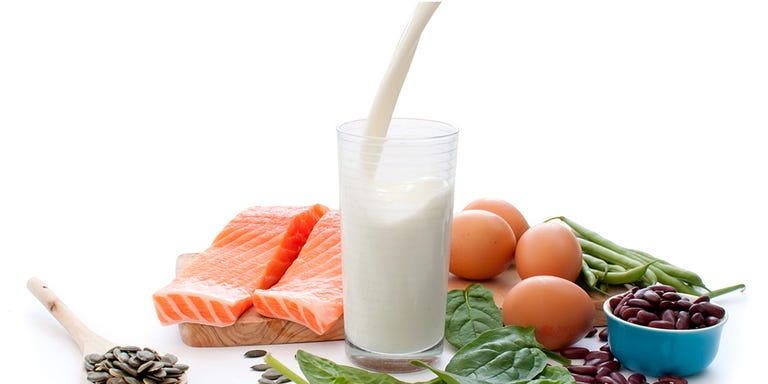 All credit goes to Holly Perkins 
Protein is an essential macronutrient for building strength and muscle, but if you're not a big-time carnivore, you might be challenged to get enough into your diet, especially when it comes to your in-between meals—a.k.a. your snacks.
Protein supplements are a great option, except that the choices seem endless—there are plant-based protein powders, whey, hemp, casein, protein bars, gels, gummies—ah! How does one pick what's best? Review these general rules and you'll save yourself from experiencing chalky aftertastes, expending extra cash, and downing extra calories.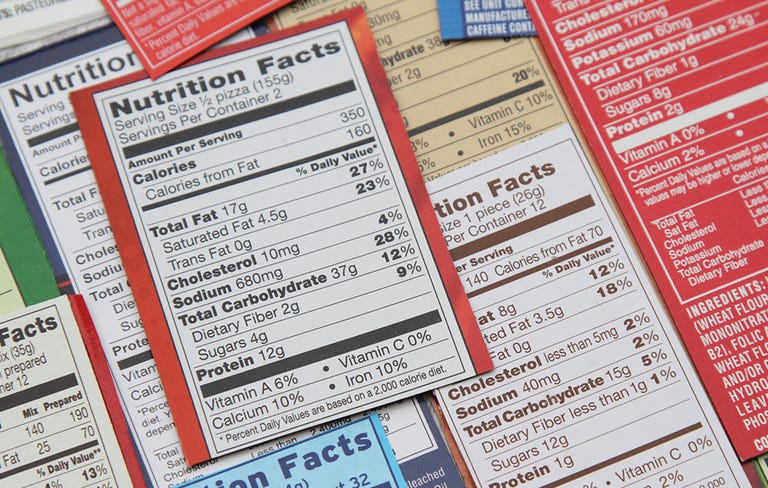 When shopping for supplements, avoid anything that claims to be a "meal replacement." While you know protein is an essential ingredient in every meal, it's only one piece of a well-rounded plate. One ingredient can't do all the work, and it certainly won't fill you up completely. I prefer to make protein shakes myself instead of relying on premade meal replacement shakes since they allow me to add more nutritious ingredients to my fuel. If you buy packaged food, do your best to avoid labels that mention artificial sweeteners, colors, or flavors within the first few ingredients.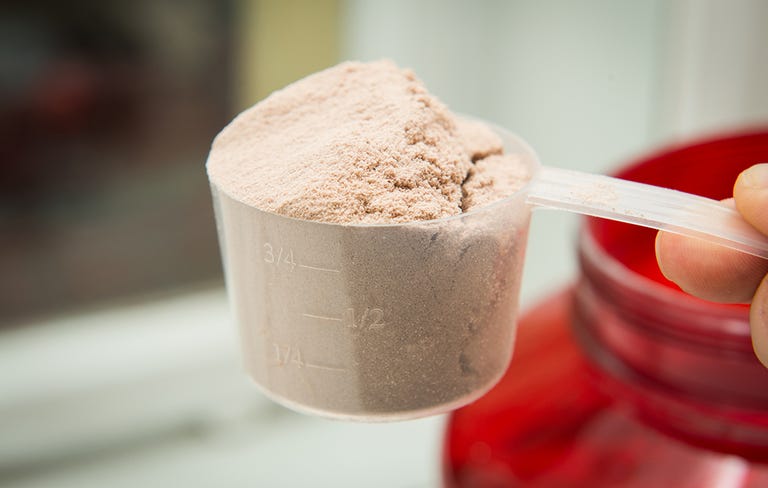 Protein powders are brilliant around workouts because they deliver fast-digesting protein to your muscles when they need it most. I lean on whey protein isolate and casein—both milk-based powders that pack in up to 25 grams of protein per scoop. (Try this organic vanilla whey protein powder from the Women's Health Boutique.) Another great option is egg-white protein powder. It's the closest thing to "real food," made with natural ingredients and pure egg whites. If you don't do dairy, plant-based proteins such as pea protein (24 grams per scoop) and hemp protein (11 grams per scoop) are awesome alternatives. The rule of thumb on powders is to ensure they contain more grams of protein than any other nutrient.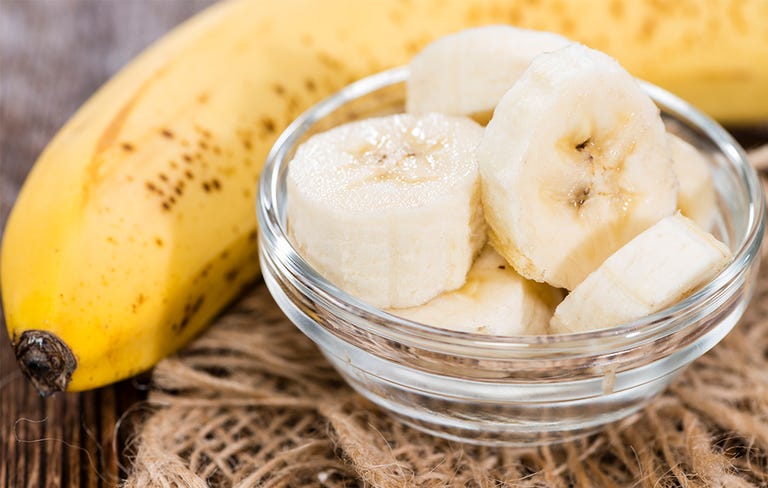 Combining protein with a fast-digesting carbohydrate speeds the delivery of protein to your muscles post-workout. Try adding a tablespoon of agave nectar to a scoop of vanilla whey protein powder and 8 ounces of water; you'll tally up 25 grams of protein in just 180 calories. If you have more time, try blending a banana with one scoop of chocolate whey protein powder and a tablespoon of all-natural nut butter (about 290 calories, 30 grams of protein).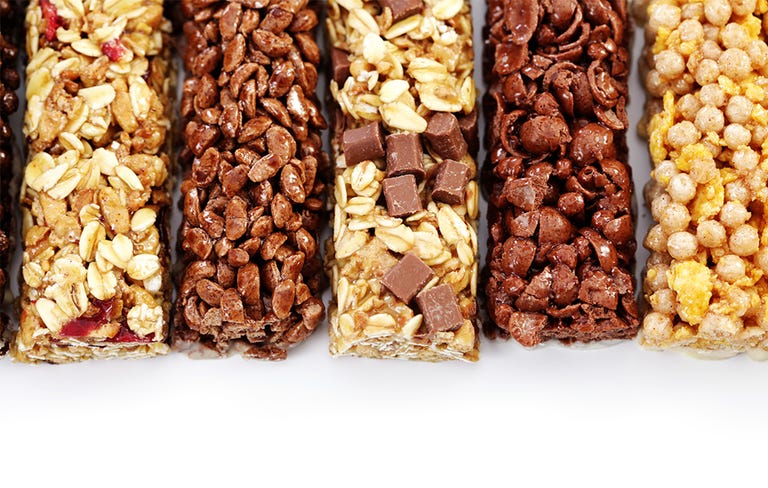 Too busy to blend? I keep a protein bar on hand for days I can't seem to slow down. Regardless of the brand, always check the back before buying. Protein bars easily go awry with added sugar, artificial sweeteners, sugar alcohol, and protein substitutes like gelatin and hydrolyzed collagen. Keep things simple: Aim for a bar with 100 to 200 calories, with at least 6 grams of protein (at the top of the ingredient list), fewer than 35 grams of carbs (no more than 19 from sugar), about 5 grams of fiber, and with calcium.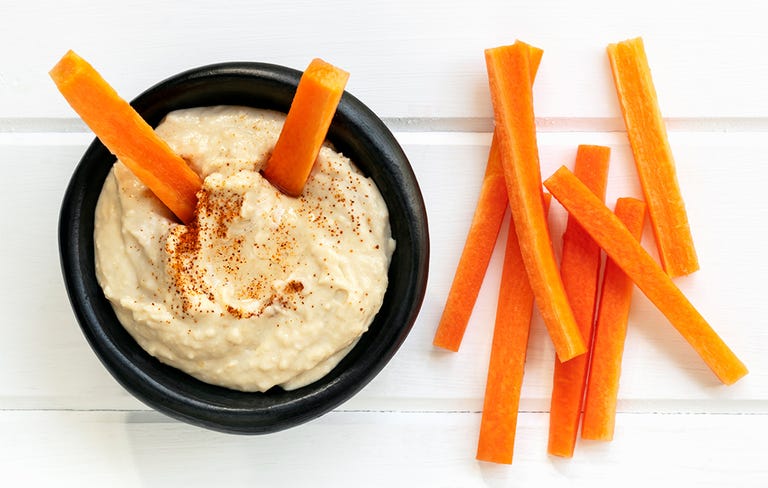 If you're on the road and only have time to make pit stops, make sure you choose the best option available. Shakes and bars are great if you're stuck in the driver's seat, but if you're riding shotgun, go for Greek yogurt, beef jerky, or a hard-cooked egg. You won't have to spend 15 minutes deciphering dense labels, and most convenience stores stock them.
To round out your arsenal of protein-rich shakes, bars, and convenience-food store snacks, try these quick and easy mini meals made at home.
Baby carrots and hummus
Carrots contain complex carbs to sustain your energy levels, and provide enough potassiumto control blood pressure and muscle contractions. Add 2 tablespoons of hummus to your mini meal for slow-digesting carbs, protein, and unsaturated fats—all the right elements to fuel activity. Plus, most varieties are made with olive oil, which contains oleic acid—a fat that aids in warding off the gene responsible for 20 to 30 percent of breast cancers, according to research from Northwestern University.
Half cup of edamame and a stick of string cheese
Sargento String Cheese Snacks keep your calories in check with 8 grams of protein in just 80 calories. Add edamame for another 9 grams of protein and a dose of heart-healthy omega-3 fatty acids.
PB&J
Remix your lunch box fave. Spread a tablespoon of natural peanut butter on sprouted grain Ezekiel bread. Top with a handful of sliced strawberries instead of jelly for a mini meal that contains 10 grams of protein in less than 200 calories.
PB&Cheese
Not sure if you want something sweet, salty, or cheesy? Surprisingly, you can have all three—and be healthy! Try 2 tablespoons of natural peanut butter on a whole grain English muffin with 1 stick of part-skim string cheese (torn into strands). The result is a mess-free mini meal with 23 grams of protein.
Two leaves of lettuce with light cheese and sliced turkey
Roll a Laughing Cow light cheese and 2 thin slices of deli turkey into a large lettuce leaf. Pack two for a low-fat meal that tallies up 25 grams of protein in 160 calories.
Cottage cheese with pumpkin seeds and cereal
Be sure to pack a spoon. Two tablespoons of pumpkin seeds and 1/2 cup Kashi Go Lean cereal on top of 1/2 cup cottage cheese satisfies your need for crunch and savory flavor. The seeds supply omega-3s, magnesium, and iron to fuel your muscle recovery. The combo with Kashi and cottage cheese pumps your protein intake up to 25 grams in one dish.