All Credits go to Wellnessbin.com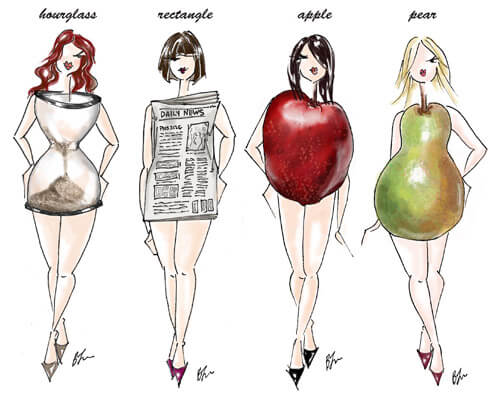 The classic hourglass figure is all that women yearn for these days. Men and women are becoming increasingly aware that too much fat or lack thereof is not only undesirable to look at but also detrimental to good health and wellbeing. Getting an hourglass figure is not only achieving the same curves as iconic stars Marilyn Monroe or Sophia Loren. For a lot of skinny women, it's all about gaining muscle for a fitter, slimmer, and healthier body.
A lot of skinny girls are giving up on their shapeless frame. Skinny used to be the hottest thing, but recent studies show that trying to lose excess weight down to skin and bones is physically, emotionally, and psychologically frustrating. You may have the body frame that fashion designers seek for their photo shoots and runway shows, but the truth is life is more than a strip of runway. The real world will require you to be healthy, fit, and strong so you have the ability to face any type of challenge.
Being skinny can only do so much as being able to fit a size 2 or a size 4. But beyond these perks, an insanely thin and shapeless body limits women to reach their full potential in life. By striving to get an hourglass figure, not only will skinny girls look sexy and curvy, they are more so empowered with lifted spirits and high hopes for their future. Besides, men are undoubtedly leaning towards slender and sexy girls than skinny chicks. Why? There is more to appreciate when a woman boasts an hourglass figure. You will not only be center of attention around men, but will be the envy of women as well.
Why is an Hourglass Figure the Most Memorable Body Shape for Women?
In essence an hourglass figure describes a woman's body shape whereby the bust size and hip size features just about the same wide dimensions while the waist is narrow. Ideally, the waist is 9 inches smaller that the bust size. The hips and thigh area is an inch narrower or just the same with the bust region. The narrow waist line results in the body resembling an hourglass, thus the name hourglass or X-shape body figure.
Some women are born with this figure. Even skinny girls may already have the skeletal structure to develop an hourglass figure. In this case, it will be easier to gain some weight and shape up the body in this configuration. Genetics is obviously a determinant if you have the ability to develop an hourglass figure. However this is true, it is not the only factor that contributes to a sexier and curvier physique. Healthy eating and exercises are major contributors to achieving a slender and incredibly hot hourglass body shape.
An hourglass figure tells men and women the following truths:
– Bigger hips are a clear sign that a woman is ready for child bearing and the rigors of pregnancy
– Women who are well-endowed around their upper parts of their body are perceived to be ready for pregnancy too. They are seen to be highly-fertile individuals who have the ability to facilitate nursing or breastfeeding after successful delivery.
– Medical studies have concluded that small amount of fat stores around the hips, thighs, and bottom is generally healthier than fat deposited around the waist. Risk for cardiovascular and metabolic diseases are lower among women who show adequate fat stores in the lower body region than those with wider waistline. The cholesterol in women with hourglass figure was lower than those who feature wider waistline, or women that did not display an hourglass figure.
Given these facts, it is actually highly recommended for skinny girls to strive for an hourglass figure than simply gaining weight without any solid plans. By aiming for an hourglass figure, you can ensure that the additional muscle gain and tad bit of fat gain are ideally distributed in the hip, thighs, and buttocks area. Maintaining a slim weight is easy for skinny girls, but toning them is yet another issue at hand. Here are several measures on how a skinny girl like you can be a few weeks away from that much envied hourglass figure:
What body type do you have?
– Identify your body type. The extent by which your body can get into the hourglass figure will largely depend on your body shape, skeleton structure, and frame. If the ribs proximal to your waist area are already wide to begin with, the only measure you can perform is flattening and toning the abs. There is no need to undergo drastic and scary surgical procedures to cinch the waistline. Besides, there are upper and lower body exercises that will make the hourglass figure still a reality for you!
Healthy Diet for an Hourglass Figure
– Skinny girls need to increase their protein intake to gain weight in the lower body regions. It is true that there is no sectional weight loss or weight gain. Exercise will come in handy once your body shows relative weight gain. The key to getting an hourglass figure is shaping the body rather than by decreasing body fat stores.
Flatten and Tone the Waist Line
– To further flatten the stomach, exercise routines such as abdominal crunches, sit-ups, and oblique routines should be performed at least thrice per week. Remember that your caloric intake has increased and any excess fat stores will need to be burned right away so as to prevent excessive accumulation of fat around the waist area.
Cardio for a Sexy 8 Figure
– You may be skinny to begin with, but cardio exercises should still be included as part of your goal of getting a sexy, figure 8 shape. Cardiovascular not only burns excess calories, but also serves the functions of toning the hips and thigh regions.
Lower Body Exercises
– Weight lifting and weight strengthening exercises is critical if you want to gain muscle around the hips, thighs, and buttocks regions. Your primary goal is to promote adequate muscle growth in this area, and a little bit of fat stores too Lunges, deadlifts, and squats. are excellent lower body toners as it will make the thighs firm and your buttocks region lifted and full in appearance too!
Of course, this workout regime would not be as effective without proper diet. Eat nutrient-dense carbohydrates and increase protein intake. A high-fiber diet will help in digestion, which in turn keep the stomach fit and fab! You also need to increase your fluid intake especially during workouts for faster recovery, resulting in harder and more vigorous workouts so you can achieve an hourglass figure at a faster rate.