All Credits Go To :  Samantha Brodsky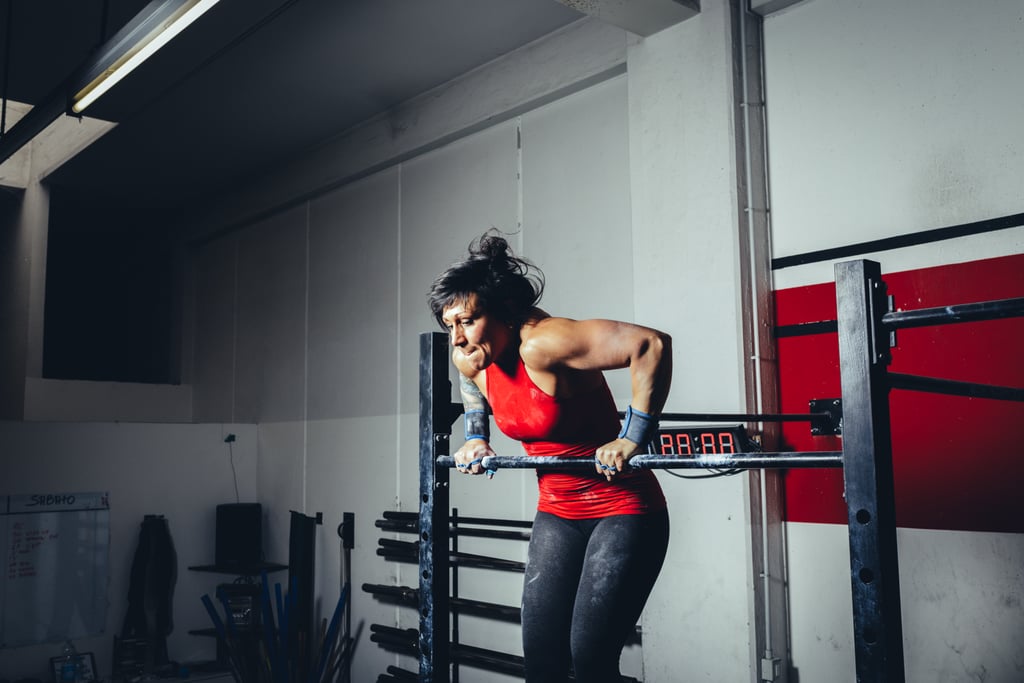 CrossFit features exercises like ball slams, burpees, and lots of heavy lifting, but it has a major gymnastics component, too. Here's an easy example: handstands. Or, anything that involves defying gravity. As a former gymnast, I've read up on similarities (and heard about them from my CrossFitter colleague) between my favorite sport and this functional-movement workout. To learn more about their ties, I recruited the help of two women who made the seemingly natural transition from collegiate gymnastics to the world of CrossFit.
Making the Switch From Gymnastics to CrossFit
Four-time CrossFit Games athlete Jennifer Jones competed as a collegiate gymnast with Western Michigan University all four years. She told POPSUGAR that she felt "very unfulfilled" in her fitness post-college until she picked up CrossFit.
Gretchen Kittelberger, another gymnast-turned-four-time-CrossFit-Games-athlete, competed for University of Maryland. While she was in law school, she heard about CrossFit from a former teammate who told her, "You'd be great at it. There's gymnastics-type stuff in it." Gretchen listed a handful of gymnasts who also got into CrossFit after their college careers ended: six-time CrossFit Games athlete Emily Bridgers, who competed for the University of Georgia, to name one. (Emily finished sixth in 2014, and her last Games in 2018 came to an abrupt halt when she dislocated and tore ligaments in her ankle.)
Both Jennifer and Gratchen agreed that making the transition wasn't very difficult because of upper body strength they already had thanks to gymnastics. "As a female athlete, the upper body stuff came very easily for me," Jennifer said, "Where I think other athletes just coming into the sport of CrossFit had to build the strength that I already had. I felt like I had a little bit of an advantage in that realm."
Body awareness that you learn as a gymnast also helped the transition, Gretchen said, especially with heavy lifting, which she hadn't done prior to starting CrossFit. She'd never done Olympic lifting before, which involves two parts: a snatch and a clean and jerk. "But you're taught from day one in gymnastics how to understand your body and how to move your body through space. It makes the learning curve so much faster in CrossFit," she explained. This, in turn, makes for better technique, she said. "And if you have better technique, then you can lift more weight, right? And it all just kind of snowballs in a positive direction."
Gretchen is also a CrossFit coach and learned that not everyone has that same spatial awareness and some people have difficulty translating her verbal cues and correction into their bodies and the movemens. All in all, "The skills that are hardest for people to learn are things [gymnasts] come in already knowing how to do," she concluded. There are some exceptions like, Gretchen said, exercises requiring endurance — because gymnasts are more power-oriented — and the rings, which is one of the six events in men's gymnastics, not women's, and something both Jennifer and Gretchen said challenged them at first.
Gymnastics Exercises in CrossFit
Many moves these women have been doing since they were young athletes are also done in CrossFit: handstands and handstand walks, hanging leg lifts, hollow holds, etc. Ahead, find some of these gymnastics-inspired CrossFit moves you can do at home at your own discretion, no equipment needed; do note, this collection of moves is not a workout.
More moves you can try at a CrossFit gym are added at the end for bonus footage, so you can see how they're done. This doesn't cover it all, but you'll get a glimpse of some "easier" and advanced examples that Jennifer and Gretchen both mentioned. Bonus points if you purchase a leotard to do these in.
At Home: Hollow Hold